Verizon Wireless to pay out millions to consumers for past 'mystery fees'
(Read article summary)
Verizon Wireless has wrongly levied data fees on about 15 million customers. The refunds are in the mail.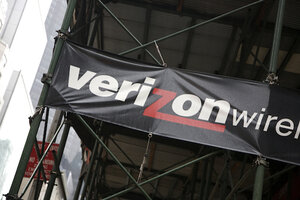 Newscom
Verizon Wireless will issue refunds to millions of customers hit by unwarranted "mystery fees." That's the news today from Verizon, which has apparently been under investigation by the FCC for more than a year. Verizon says the fees in question were labeled as "data charges," and were applied even to the statements of customers who had not purchased a data package from Verizon.
"In October and November, we are notifying about 15 million customers, through their regular bill messages, that we are applying credits to their accounts due to mistaken past data charges," a lawyer for Verizon Wireless wrote in a statement today. "We will mail former customers refund checks. In most cases, these credits are in the $2 to $6 range; some will receive larger credits or refunds."
In a note emailed to the site Ars Technica, FCC spokeswoman Bureau Chief Michele Ellison confirmed that Verizon had been under investigation for some time. "Questions remain as to why it took Verizon two years to reimburse its customers and why greater disclosure and other corrective actions did not come much, much sooner," Ellison wrote.
---