Netflix disc-free streaming comes to Sony PS3, Nintendo Wii
(Read article summary)
Netflix streaming video is now available disc-free on the Nintendo and Sony consoles.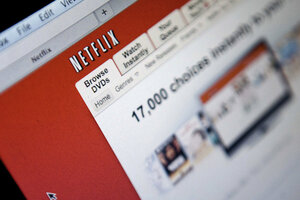 Newscom
Beginning this week, Netflix subscribers with a Nintendo Wii or Sony PlayStation 3 console will be able to stream video directly from the Netflix library – without the hassle of inserting that pesky Netflix disc. According to Netflix, the process is pretty simple: Fire up your console, navigate to the online marketplace – the Wii Shop channel on the Wii and the PlayStation Store on the PS3 – and download the Netflix application.
"In addition to removing the need for discs, we've developed a new user interface on both applications that significantly improves the experience," Netflix exec Greg Peters wrote in a blog post today. "The new applications will allow you to search for content directly from the device and you'll also be able to view an increasing portion of our content library with subtitles or alternate audio tracks."
---