HP Slate 500 brings professional spin to the tablet wars
(Read article summary)
HP Slate 500 is a business machine, not a toy – and therein, says HP, lies the difference.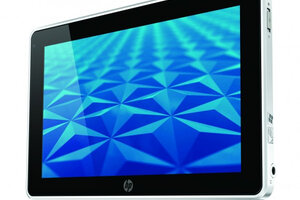 Newscom
In recent months, most of the major tech players have jumped – or announced they will jump – headfirst into the tablet market. Apple has the iPad (and so does Verizon Wireless), RIM has the BlackBerry PlayBook, and Samsung has the Galaxy Tab, a tablet powered by the Android OS. And now Hewlett-Packard has its own flatscreen computing device.
On Thursday, HP unveiled the Slate 500, which runs the Windows 7 operating system. Among the niceties found on the HP Slate 500 are a webcam, 3 megapixel camera, a memory card slot, a 1.86 GHz processor, and 2GB of RAM. It's a workhorse, in other words – a full-featured, sleek tablet device with almost as much juice as your laptop.
---