Sony pushes the stop button on Walkman
(Read article summary)
Walkman, the portable music device first released in 1979, will be pulled from production, Sony announced on Friday.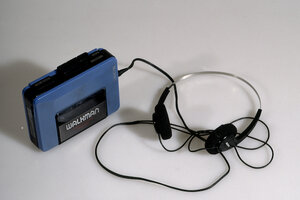 Newscom
On Friday, Sony announced it would halt production on the Walkman, the portable listening device first introduced in 1979. At Horizons HQ, we greeted the news with an incredulous yelp – not because we didn't love the Walkman (we did, certainly), but because we had no idea the Walkman was still in production. After all, this is a device that has twice been nudged aside by next-generation tech, first by the Discman, and then by the MP3 player.
In fact, as far as we can see, the Walkman had only one leg up over its successors – it didn't skip or hop when you were exercising. But then again, the MP3 player doesn't skip or hop when you exercise, either. So, yeah: Walkman, your time had probably come. (Of course, Sony puts the Walkman name on devices other than tape players, but it's the cassette classic that's retiring.) An outpouring of sentiment for the bygone Walkman is spilling across the blogosphere today, mostly from bloggers with rosy memories of listening to vintage music on boxy, heavy portable machines.
Or not so rosy.
---