The return of Koobface
(Read article summary)
Koobface, a virus that first hit in 2008, has returned for a second round of mayhem. Can anyone slay the Koobface monster for good?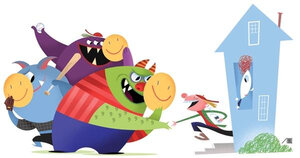 Bob Staake
Koobface, the resilient little virus that first surfaced in 2008, is back again in a new strain – and this time, it's targeting Mac and Linux operating systems, as well as the Microsoft Windows OS. According to a handful of computer security firms, the new Koobface strain, dubbed Boonana, first surfaced on Wednesday, and has been working its way outwards ever since.
(Side note: Koobface, Boonana – can't we just call the next virus Fred or Jim or The Crazy Virus of Computer Death and Destruction?)
Computerworld is reporting that Boonana, like the original Koobface, is spreading via messages on social networks such as Facebook. The messages usually have clickable topic lines – "Is this you in the video?" or "Funny pictures of you," or something similar – but when users actually click on the message, they are brought to a third party site. On that site is a link. Open the link, and your computer will turn into a zombie.
---