Mark Zuckerberg in, Assange out. Did Time choose the wrong person of the year?
(Read article summary)
Mark Zuckerberg is Time magazine's person of the year. But plenty of people think the honor belongs to Julian Assange, founder of WikiLeaks.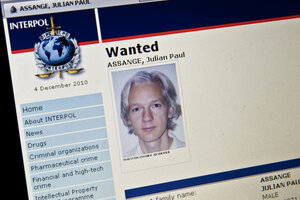 Newscom
Time magazine has named Mark Zuckerberg the person of the year. No surprise there: Zuckerberg has presided over the astounding growth of the most popular social network in history. He has been canonized – or demonized, depending on your perspective – in a major Hollywood flick. And he has weathered a string of successive Web security debacles, all the while keeping Facebook leaps and bounds ahead of its competitors.
Ben Mezrich, the author of "The Accidental Billionaires," told the Monitor this summer that Facebook is "such a huge part of our lives, it's such a quickly growing company, that any critique falls flat. Unless [the Facebook staff] does something really phenomenally stupid, and I can't see for the life of me what that would be, a certain age group is going to keep using the site. That's the brilliance of Facebook."
---