Paul Cézanne: The man behind today's Google doodle
(Read article summary)
Google celebrates Paul Cézanne with a painterly 172nd birthday doodle. But who was Paul Cézanne? How did his work change modern art?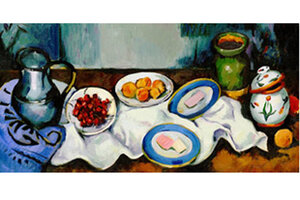 Google screenshot
Google handed over its homepage today for a loving tribute to Paul Cézanne. The French painter, whose work forever changed modern art, would have turned 172 today.
Google doodles often honor artists. In just the past 12 months, there was the charming Norman Rockwell homage, the lively Frida Kahlo portrait, and even the work of 9-year-old artist Makenzie Melton. But today's image is a little different. Google's master doodlers actually created a real oil painting. This marks the first time the company started with oil paints before going digital, according to Search Engine Land.
You can see the original painting here.
So, what was so special about Paul Cézanne? His art is far from photo realistic, but that was the point. He boiled down objects into their core geometric shapes. Trees might be cylinders; fruit may look like simple spheres. He also played with perspective, sometimes showing two views in the same painting. The style may sound odd, but it opened up other painters to further toy with reality.
---