Is Kinect coming to Windows?
(Read article summary)
A Windows-compatible version of the popular Microsoft Kinect peripheral is reportedly in the works.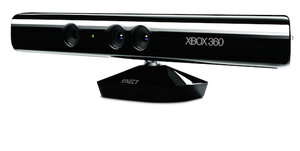 Newscom
Earlier this year, Steve Ballmer, the CEO of Microsoft, was asked whether he had plans to release a PC-compatible edition of the Kinect, a popular Xbox 360 peripheral. Ballmer replied only that the Kinect would hit the PC "at the right time." And by the "right time," he apparently meant really soon. As in 2011. According to the tech site Win Rumors, Microsoft is preparing a Kinect software development kit in advance of a Kinect roll-out for the PC.
"Microsoft is set to unveil driver support and a software development kit in the coming months and will allow third-party developers to create titles that utilize the Kinect sensor when plugged into a PC," Tom Warren of Win Rumors writes today. "According to sources familiar with the plans, Microsoft will distribute the drivers under the 'beta' tag." Warren added that Kinect support is expected to be integrated into the next version of Windows.
ALSO SEE: Does Call of Duty: Black Ops redefine 'blockbuster'?
---