The Pentalobe screws saga: How Apple locked up your iPhone 4
(Read article summary)
Thanks to Pentalobe screws, you'll need a special tool to open up new iPhone 4 models – but what the heck are Pentalobe screws?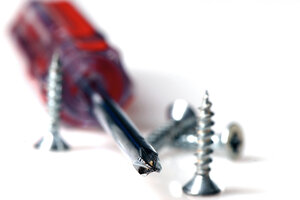 Newscom
According to the tech site iFixit, Apple is using something called pentalobe screws to hold together new iPhone 4 units, as opposed to the tiny Phillips-head screws that originally shipped with the iPhone 4. Which effectively means that it is now very difficult for a would-be MacGyver to crack open his iPhone 4 like an Atlantic lobster and take a gander inside.
Tamper-resistance is usually "designed for protecting company profits," points out Brian X. Chen of Wired. "In the case of software, Sony, for example, baked extra-strict security into the PlayStation 3's operating system, which hackers recently infiltrated to install pirated software on the console. In a lawsuit, Sony asked a court to remove all traces of the PS3 hack from the internet, claiming it violated copyright law and would eat into PS3 game sales."
---