Mark Zuckerberg joins Jesse Eisenberg on SNL
(Read article summary)
Mark Zuckerberg and Jesse Eisenberg met for the first time in the studios of Saturday Night Live. So how did the Facebook founder and the actor get along?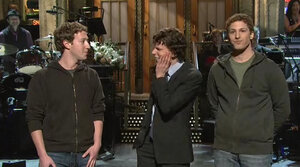 NBC
Mark Zuckerberg made a guest appearance on Saturday Night Live this weekend, alongside the actor Jesse Eisenberg, who portrayed the Facebook founder as a socially-maladjusted egomaniac in the Oscar-nominated flick The Social Network. Needless to say, the whole thing was really awkward.
The Zuckerberg cameo came during Eisenberg's opening monologue. While Eisenberg chatted with regular Zuckerberg-impersonator and SNL cast-member Andy Samberg, the camera panned backstage, settling on a shot of the real Zuckerberg.
"Those guys are just nerds," Zuckerberg told SNL producer Lorne Michaels. Eventually, he wandered out to join Eisenberg and Samberg. Some gentle ribbing ensued – "it was interesting," Zuckerberg said of The Social Network – and the pair closed the monologue with a handshake.
---