White iPhone, is that really you?
(Read article summary)
White iPhone holdouts could soon be rewarded for their patience. The long-lost model may have finally emerged from its nine-month nap.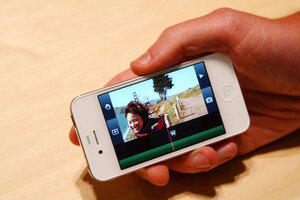 Newscom
When we last visited the saga of the White iPhone 4, the ever-elusive device had been once again delayed by Apple brass. (You'll recall that Steve Jobs, in unveiling the iPhone 4 in 2010, promised the imminent release of a white model. Only the black model ever showed up.) But hold fast, white iPhone stalwarts! Salvation may be on the way.
Engadget has published a pair of photos – one from a Best Buy outlet and the other from the Canadian retail giant The Source – which appear to show the White iPhone 4 is ready for release. The first photo was snapped at a Best Buy in Houston, and includes a price tag for a "white iPhone 4," powered by AT&T, and available off-contract for $599. (As Engadget notes, that's the same price as an off-contract black iPhone 4.)
---