Kyocera phones echo Nintendo DS with dual screens
(Read article summary)
The newest addition to the Kyocera phones line-up is the Sprint Echo, a dual-screen handset.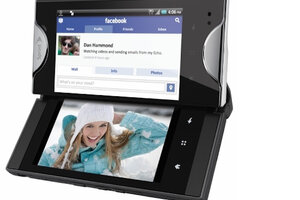 Sprint
On Monday, Sprint took the wraps off a phone called the Echo, which will be manufactured by Kyocera, powered by the Android 2.2 OS, sold for about $200 – with a contract – and set to hit shelves sometime this spring. The kicker here is that the Echo, unlike other Kyocera phones, will ship with two screens, both of which can be used to run all sorts of applications, from Facebook to an email client.
Sprint says the two screens let the Echo carry out unique functions. Among them: the "Simul-Task" mode (and yes, that name is patented), which can run two apps concurrently, on different screens; the "Optimized" mode, which uses both screens to run the same app; and the "Tablet" mode, where "one application spread across both displays for a full 4.7-inch viewing area."
ALSO SEE: The 10 weirdest uses for a smartphone
---