Motorola Xoom Wi-Fi matches iPad 2 on price
(Read article summary)
Xoom gets a Wi-Fi only edition. But did Motorola wait too long to introduce a cheaper Xoom?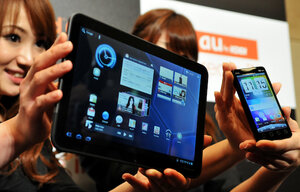 Newscom
Xoom – the new tablet computer manufactured by Motorola – will soon be available in a Wi-Fi only iteration, Motorola announced today. Previously, Motorola was offering a 3G capable Xoom for $800, or $600 with a Verizon data plan. The new Wi-Fi Xoom will sell for $600, exactly in line with the 32GB Wi-Fi only Apple iPad 2. The device will ship with the Android 3.0 Honeycomb operating system, 32GB of memory, and a 1GHz processor.
Powerful stuff. But many analysts have worried that Motorola waited too long to introduce a cheaper Xoom, and that the company may have scared away prospective consumer by initially rolling out only a 3G edition of the tablet computer.
RELATED: 10 most intriguing tablets of 2011
Motorola "could have done a better job" rolling out the Xoom, Ittai Kidron, analyst at Oppenheimer & Co., told The Wall Street Journal today. "We believe Motorola missed an opportunity to drive volume by introducing its priciest Xoom first instead of a full range of tablets at the same time, as Apple does," Kidron added. "We believe Motorola has missed an opportunity to make its mark in the market by initially targeting value versus volume."
---