Is Android really faster than iOS?
(Read article summary)
Android loads pages an average of 52 percent faster than the iPhone iOS, one tracking firm said this week. Others aren't so sure.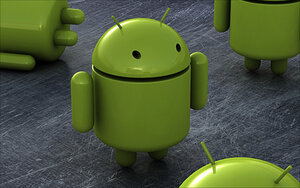 Newscom
Android – the mobile operating system built by Google and installed on millions of handsets worldwide – chews through websites 52 percent faster than the Apple iPhone iOS. That's the news today from Blaze Software, the analytics firm which recently tested iPhone iOS version 4.3 and Android version 2.3 on two phones: An iPhone 4 and a Nexus S.
According to Blaze, the test was conducted using the websites of the companies listed in the Fortune 1000. 45,000 page loads were undertaken in all – and of those 45,000 loads, Android's Chrome browser was faster than iPhone's safari browser 84 percent of the time. "While we expected to see one of the browsers come out on top, we didn't expect this gap," Blaze reps wrote today on the official company blog.
ALSO SEE: The 10 weirdest uses for a smartphone
---