PlayStation network down after launch of several new games
(Read article summary)
PlayStation network down: A Sony PlayStation network crash has coincided with the launch of their much anticipated Mortal Kombat, Portal 2, and SOCOM 4 games. The network may be down for days, Sony says.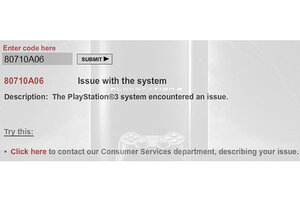 Sony PlayStation screen picture
Sony PlayStation fans in the US and Europe were looking forward to playing several new PlayStation games, including Sony's a beta release of inFAMOUS 2, Thursday. What they got instead was a disconcerting error page.
The official Sony blog says that, far from a momentary network hiccup, users should expect the site to be down for as long as two days.
The service outage has locked users out from playing many Sony PlayStation games online, including four brand new releases. The outage coincides with the release of Mortal Kombat, Portal 2, SOCOM 4, and inFAMOUS 2's beta release. Users on Sony's blog page have been particularly vocal about not being able to play Mortal Kombat and the inFAMOUS 2 beta release. Dozens of other PlayStation games capable of network-play will be locked out for the next 24-48 hours.
---