Wii 2: Next Nintendo console confirmed for 2012
(Read article summary)
Wii 2, Project Cafe, or whatever the successor to the hyper-popular Wii is called, will go on sale in 2012, Nintendo announced this week.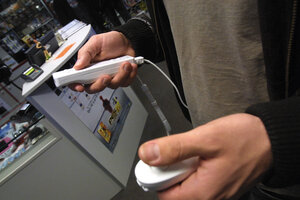 Newscom
Wii 2 rumors have been burbling around the Web for a few months –– some speculation about launch titles here, some gossip about graphical capability there. (Most recently, Game Informer magazine predicted that the Wii 2, or whatever the thing is called, will be revealed at the annual E3 expo in June.) Want some proof? Here's your proof: A letter (PDF) from the folks at Nintendo, revealing their intent to build "a system to succeed Wii."
Concrete details are scarce. The Wii 2 will go on sale next year; the console will be ready for demo by E3 time, as the Game Informer people correctly intuited. Unsubstantiated gossip is easier to come by. Scott Lowe at IGN –– who spoke to folks familiar with the next Nintendo console –– says the device "could have a retail price of anywhere between $350 and $400 based on manufacturing costs, and will ship from Taiwanese manufacturer, Foxconn."
---