Can the Sony S1 and S2 tablets capture Apple's allure?
(Read article summary)
Sony will launch two new tablets before the end of the year. But do the S1 and S2 really stand a chance against the Apple iPad and Xoom?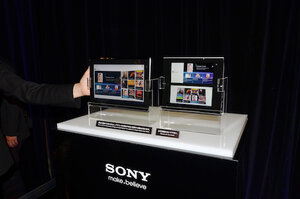 Newscom
And the tablet market continues to swell. The latest entrants? The S1 and S2, a pair of tablet computers from the folks over at Sony. (S1 and S2 are code-names. Note to Sony branding team: We vote for Tiger Venom Tablet Extravaganza and Tiger Venom Tablet Extravaganza 2, when these things actually hit shelves.) According to early reports from Tokyo, where the tablets were unveiled, the S1 is a regular old 9.4-inch tablet machine –– flat and shiny.
The S2, on the other end, is a "clamshell" device, which opens up like a flip phone, and includes two 5.5-inch touch screens. Both the S1 and the S2 will run Google's Android 3.0 "Honeycomb" operating system; both devices will connect to the Web via 3G and Wi-Fi antennas. No details yet on pricing or release date. So how will the S1 and S2 fare in the already-crowded tablet market?
RELATED: 10 most intriguing tablets of 2011
---