Dark Souls development dogged by PSN outage
(Read article summary)
The PlayStation Network remains offline. And that has caused some headaches for the developer of the game Dark Souls.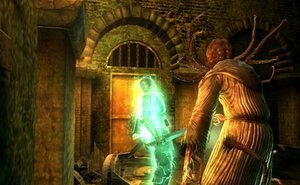 Bandai Namco
Welcome to week three of the ongoing PlayStation Network outage. Screens across the country are dark, gamers are being forced to play in campaign mode – or to just go outside – and potentially billions of dollars have been lost. And now some more bad news, both for Sony and PSN fans worldwide: At least one video game developer is saying that the PSN blackout has directly affected its production schedule.
"I would be lying if I said the problems with PSN hadn't caused us some problems," Kei Horono, a staffer at From Software, told the tech site CVG. "But we are in contact with Sony and are aiming to meet a street date of October 11." Horono was talking specifically about a video game called Dark Souls – the follow-up to cult favorite Demon's Souls. He did not provide further details.
RELATED: PlayStation Network back online fully around May 31: report
---