LA Noire review roundup
(Read article summary)
LA Noire reviews have centered on the mesmerizing graphics, the gripping gameplay, and the top-notch puzzles. So is LA Noire a better game than its open-world, cinematic siblings, Grand Theft Auto and Red Dead Redemption?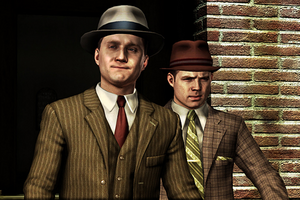 Rockstar
LA Noire, the latest title from Rockstar Games, takes place in the city of angels, circa 1947, and stars a young cop named Cole Phelps. Obviously this is new territory for Rockstar, which has previously focused its energy on high-octane free-for-alls such as Grand Theft Auto. So how does LA Noire stack up? Well, let's go to the reviews.
The gameplay
"The game mechanics aren't nearly as sophisticated as they could be: As an LAPD detective in the late 1940s, you collect evidence and interrogate witnesses to build a case, gameplay that is derivative of (and, I would argue, done better in) games with cartoon graphics and melodramatic stories like Phoenix Wright: Ace Attorney," writes Chris Kohler of Wired. "LA Noire's puzzle-solving is subservient to its narrative, but the simple allure of playing a part in the game's gripping story was such that nothing could tear me away from it."
The gameplay, part 2
"While there are titles that have put players on the right side of the law, few of them have captured the nuances of criminal investigations the way that this game has. From scouring crime scenes to pressing suspects for info, there's a lot that can go wrong in each case –– much like in the real world –– and it all comes across as both intense and entertaining," writes Jason Cipriano of MTV. "The logical deduction necessary for each investigation makes Noire feel very much like a game, complete with puzzles and action sequences, while toeing the line of reality."
---