Mark Zuckerberg: Kids under 13 should be welcome on Facebook, too
(Read article summary)
Mark Zuckerberg says the under-13 set should be able to sign on to Facebook, despite a US law saying otherwise. Could a fight from Mark Zuckerberg change the law?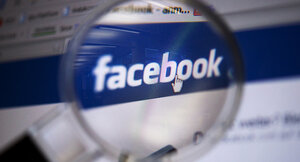 Newscom
Mark Zuckerberg, the founder of Facebook and the inspiration for the Oscar-winning flick "The Social Network," says younger Web users should have the same privileges as their older counterparts.
In an interview with the venture capitalist John Doerr at the NewSchools Venture Fund's Summit in Burlingame, Calif., Zuckerberg said he would "fight" to roll back the part of the Children's Online Privacy Protection Act, or COPPA, which prevents companies from collecting information on users under the age of 13.
RECOMMENDED: The Social Network: Four things the movie got wrong
"That will be a fight we take on at some point," Mark Zuckerberg said, according to Fortune. "My philosophy is that for education you need to start at a really, really young age." Asked about user safety, Zuckerberg said that "[b]ecause of the restrictions we haven't even begun this learning process. If they're lifted then we'd start to learn what works. We'd take a lot of precautions to make sure that they [younger kids] are safe."
---