Netflix CEO: Unlimited streaming video is unrealistic, for now
(Read article summary)
Netflix CEO Reed Hastings warned today that the Netflix streaming library is unlikely to expand anytime soon.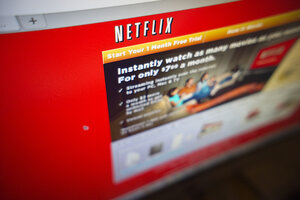 Newscom
Last November, Netflix rolled out a streaming video-only option for American users, which sounded like a good idea to us, for a couple of reasons. On the one hand, postage rates are going up, and the DVD thing is going to get pretty pricey for Netflix, pretty fast. On the other, it's clear – see here and here and here – that streaming video is where the rental market is headed, so why shouldn't Netflix get out ahead of the game?
The only problem: The Netflix streaming library is far from comprehensive. Any Netflix veteran can tell you that it's pretty much impossible to search for a specific title you'd like to watch, because you'll inevitably be disappointed; the service is really meant for browsing. Netflix has inked a few more major deals, which has helped expand the selection, but if you're hoping that the library will get much bigger soon, well, keep waiting.
---