First look at Sea Ray, Nokia's first Windows Phone 7 device
(Read article summary)
With the body of a Nokia N9 and the brains of Windows Phone 7, Sea Ray shows the promise of Nokia and Microsoft's new partnership.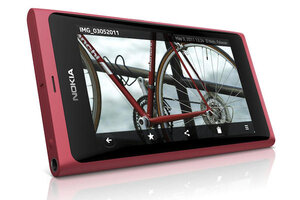 Nokia
Excited about the Nokia N9, but don't want to be stuck with the withering MeeGo operating system for the next two years? Take a look at the Nokia Sea Ray.
Earlier this week, Nokia CEO Stephen Elop gathered his employees for the unveiling of a "super confidential" new product. Before revealing it, he asked everyone to "put away their cameras" – but apparently some employees kept them out anyway, and now pictures and video of the unveiling are in the wild. Is this a leak? Or is it – judging from the professional-quality video that came out of the event – an "unofficial official" leak? Either way, we've got a glimpse at "Sea Ray," Nokia's first Windows Phone 7 handset.
Physically, the phone looks almost identical to Nokia's N9, which was announced on Tuesday. It has a featureless glass front, polycarbonate body, and an 8-megapixel camera with a Carl Zeiss lens. The crucial difference is that the leaked photos and video show it running the Windows Phone 7 "Mango" operating system.
Why is that a big deal? In its Tuesday announcement, Nokia confirmed that the N9 will run the mobile Linux-based MeeGo operating system, which Nokia developed with Intel. But earlier this year, Nokia also signed a deal with Microsoft in which it agreed to port all its smartphones (including those running the Symbian operating system) to Windows Phone 7.
---