Zynga, maker of Farmville, says it will raise $1 billion for IPO
(Read article summary)
Zynga has filed for a $1 billion IPO. But is Zynga too dependent on Facebook for its growth?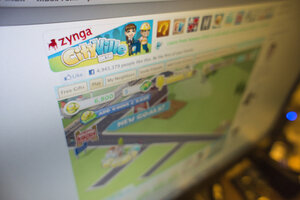 Newscom
Zynga, the four-year-old San Francisco company responsible for social media hallmarks such as CityVille and FarmVille, has filed to raise $1 billion in an initial public offering – apparently the biggest Internet IPO since Google. In the filing, Zynga said its yearly revenue had climbed from $19 million in 2008 to $597 million in 2010. Meanwhile, the company has already brought in $235 million in the first three months of 2011, up $101 million from the same time last year.
Zynga, unlike so many other Internet darlings, is profitable. "By offering our shares to the public we hope to enable Zynga to invest more in play than any company in history," Zynga CEO Mark Pincus wrote a statement. "We will continue to make big investments in servers, data centers and other infrastructure so players' farms, cities, islands, airplanes, triple words and empires can be available on all their devices in an instant."
---