Google stock soars on good news from Mountain View
(Read article summary)
Google stock is up, and new Google CEO Larry Page says Google+ should get some of the credit.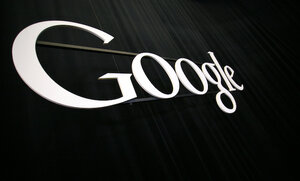 Newscom
On Wednesday, Google revealed that sales earnings, excluding the revenue it passed on to partner sites, had risen to $6.92 billion, a good deal higher than most estimates put forth by analysts. Today, Wall Street responded positively to the news, sending Google shares up as much as 11 percent, to $588.27.
"We had a great quarter, with revenue up 32 percent year on year for a record breaking over $9 billion of revenue," new Google CEO Larry Page wrote in a letter to investors this week. "I'm super excited about the amazing response to Google+ which lets you share just like in real life." Amazing response is right – although early reviews of the social networking platform were fairly lukewarm, millions of new users have flocked to Google+ in recent days.
Meanwhile, on Wednesday Google+ received an official benediction from none other than Times columnist David Pogue, who argued that on several fronts, Google had managed to actually out-Facebook Facebook. "Until now, Facebook and Twitter have been the Dominant Duo of social networking," he wrote. "But Google's less sprawling, more video-centric, better-controlled new service is already too good to ignore. Now it's the Dominant Duo ...+1."
---