Star Wars: The Old Republic available for pre-order
(Read article summary)
Star Wars: The Old Republic gets pre-order availability, and a cool new trailer.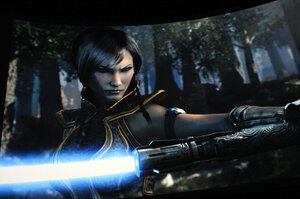 Newscom
Star Wars: The Old Republic, a forthcoming MMORPG for the PC, won't hit store shelves – or computer screens – until October. But beginning this week, eager Star Wars junkies can navigate over to The Old Republic site, and pre-order the game, which takes place approximately 3,500 years before the events depicted in the Star Wars movies. (See trailer below for a peek at the gameplay.)
TOR will ship in three configurations: A standard edition, for $59; a "Digital Deluxe" version, for $79; and a "Collector's Edition," for $149. The latter includes 30 days of playing time, as well as "The Journal of Master Gnost-Dural," an 111 page book full of "notes and sketches by the revered Jedi Master from the early years of the Great Hyperspace War between the Galactic Republic and the Sith Empire." So there's that.
In a hands-on preview posted at PC Gamer in May, Rich McCormick reported praised TOR as "a massively multiplayer game that starts by condensing down, aiming to deliver an experience comparable to a single-player RPG.... An hour with my character (an Imperial Agent), and I had more of a sense of him as my character than I've ever had with an MMO." Grand news for Star Wars fans.
---