Is an LTE iPhone coming this year?
(Read article summary)
A 4G LTE iPhone is on the way, one site says. The catch: It may not be a 4G LTE iPhone 5.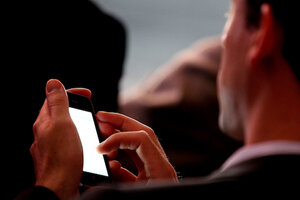 Newscom
Apple is in the process of testing 4G LTE technology on its phones, according to a new dispatch from the tech site Boy Genius Report. If the gents at Boy Genius Report are right – and they have a good track record – that could mean that the next couple generations of iPhones will work with the Verizon and AT&T 4G networks, a major improvement over the current 3G networks. So will the iPhone 5 be LTE-powered? Well, not so fast.
"BGR has obtained evidence of an internal iOS test build from one of Apple's major carrier partners, and buried in the firmware is a property list (.plist file) for LTE," Jonathan S. Geller of BGR writes today. "This doesn't necessarily mean every Apple device that's about to be released will feature an embedded 4G LTE modem, but it certainly means Apple isn't sitting on the sidelines as 4G LTE networks continue to roll out around the world."
What does this tell us about Apple's lineup? LTE is coming, but maybe not this year. Remember that Apple has an odd history with new standards. It champions some immediately (Thunderbolt), abandons others prematurely (Flash), and only embraces them on Apple's terms. The original iPhone didn't have 3G, even though 3G networks blanketed the US at the time.
---