HP Touchpad tablet plummets to $99, sells like gangbusters
(Read article summary)
HP Touchpad: $99 fire-sale price ignites huge demand for the webOS tablet. Get 'em while you can.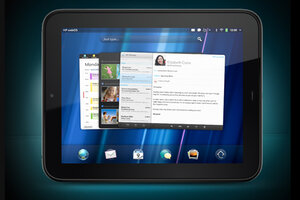 HP.com
The HP Touchpad found its sweet spot: $99.
Hewlett-Packard threw in the towel last week, announcing it would discontinue the HP Touchpad tablet after only seven weeks on that market. Ouch. Conventional wisdom after the news said, "stay away from the TouchPad!" App developers will ignore it. HP will likely stop supporting it. And at $400 or $500, the Touchpad is a tough sell compared to the iPad and Android tablets. Unless you're a collector of tech curiosities, just walk away.
Apparently, HP heard the crowd and acted fast. Rather than bury tablets in the desert Atari ET style, HP announced a fire sale over the weekend. The company's website listed the 16 GB model at $100 and the 32 GB version at $150. The plan worked.
RELATED: 10 most intriguing tablets of 2011
"Due to the significant price reduction, we experienced overwhelming demand for the product and are temporarily out of inventory," said HP's website Monday morning. "Please enter your email address below to be notified as soon as we have them back in stock."
---