Sprint iPhone 5 to arrive in October: report
(Read article summary)
A Sprint iPhone 5 will launch alongside the Verizon and AT&T models this October, according to a new report. Wall Street seems excited about the idea of a Sprint iPhone. Will Apple fans rally, too?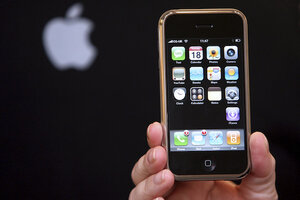 Newscom
When Apple unveils its next smart phone in October, it will introduce a Sprint iPhone 5 as well. So says The Wall Street Journal in an anonymously sourced article about Apple's fall schedule.
The Journal makes three predictions in this story: It calls the upcoming device an iPhone 5, which has become increasingly common as the iPhone 4S moniker may be the name of Apple's upcoming budget option. Second, the piece corroborates reports that Apple will introduce the next generation iPhone in October, much later than its usual summer release. And third, the Journal provides the most authoritative account yet that a Sprint iPhone is imminent, well, as authoritative as you can be with Apple rumors.
Word of a Sprint iPhone stoked not just the blogosphere, but Wall Street as well. Sprint's stock leapt 9 percent in 24 hours, but has eased a little in afternoon trading.
What has investors so excited?
"In the second quarter, Sprint blamed a decline in its contract subscribers on more pronounced 'competitive headwinds,' most prominently, 'the first full quarter both major competitors offered the iPhone,' " reports the Journal.
---