New words: Retweet, cyberbullying, and sexting officially enter the OED
(Read article summary)
A raft of new words were added to the Concise Oxford English Dictionary this month. Among the new words: 'sexting,' 'cyberbullying,' and 'retweet.'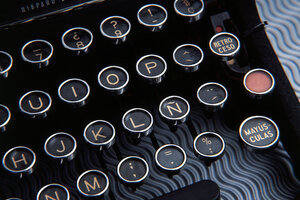 Newscom
Earlier this month, the Oxford English Dictionary team released the latest edition of its "Concise" reference guide, and with it, 400 new pieces of modern slang. Some of the new words are funny – "mankini" – and some of the new words will please committed sartorialists – "jeggings" – but for our purposes, the best of the bunch are the addition of several (familiar) pieces of techspeak.
Take sexting, a noun, defined by the OED as "the sending of sexually explicit photographs or messages via mobile phone." Or retweet, also a noun, defined as a "reposted or forwarded message on Twitter." And don't forget about cyberbullying, "the use of electronic communication to bully a person, typically by sending messages of an intimidating or threatening nature."
Meanwhile, for the especially enthusiastic techie, there is woot (exclamation mark optional), a word "used to express elation, enthusiasm, or triumph."
---