Secret iPhone prototype left at a bar -- again
(Read article summary)
An iPhone prototype turned up at a bar in San Francisco. What are the chances that iPhone prototypes would go missing twice in two years?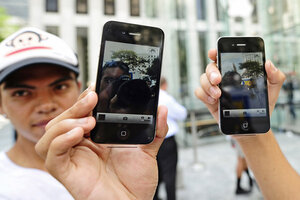 Newscom/FILE
An Apple engineer accidentally left an iPhone prototype at a bar in Silicon Valley. No, this isn't a republished story from 2010. This is a bizarre moment of tech deja vu almost exactly one year after an Apple employee left a different iPhone prototype at a bar in Silicon Valley.
Apple security hustled to recover this second missing prototype, according to CNET, who uncovered the story.
Whereas last year's incident included checkbook journalism, accusations of criminal misconduct, and a police investigation of the tech blog Gizmodo, "this year's lost phone seems to have taken a more mundane path," reports CNET. "It was taken from a Mexican restaurant and bar and may have been sold on Craigslist for $200."
---