Qwikster: Netflix DVD rentals get a new name
(Read article summary)
Qwikster is the new name for Netflix's DVD rental arm. Streaming video will retain the original moniker, CEO Reed Hastings said this weekend. So, is Qwikster any different than before?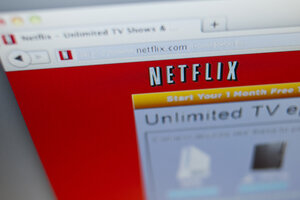 Newscom
What's Qwikster, you ask?
Netflix, faced with falling subscriber numbers and a seething horde of angry users (to say nothing of the seething investors on Wall Street), will split its video rental service into two separate arms, Netflix CEO Reed Hastings announced over the weekend. The streaming video arm will retain the name Netflix, Hastings said, while the rental service will get the name Qwikster.
Hastings also took the time to apologize for having "messed up. I owe everyone an explanation," Hastings wrote in a blog post on Sunday. "It is clear from the feedback over the past two months that many members felt we lacked respect and humility in the way we announced the separation of DVD and streaming, and the price changes. That was certainly not our intent, and I offer my sincere apology."
---