Did Netflix create Qwikster just to sell it?
(Read article summary)
Netflix over the weekend split its business into two separate arms – Qwikster for DVD rentals, and Netflix for streaming video. Some analysts think that the company could eventually sell Qwikster.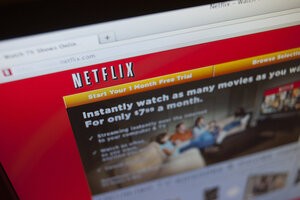 Newscom
Over the weekend, Netflix announced it would split its business into two separate arms – a DVD rental platform called Qwikster, and a streaming video service which will retain the name Netflix.
It was a strange and surprising announcement, to say the least, compounded by an equally strange and surprising blog post from Netflix CEO Reed Hastings, who apologized profusely for having "messed up" his announcement that subscription prices would go up.
Wall Street reacted accordingly.
Today comes speculation that Netflix could be considering selling Qwikster at some point in the future, setting itself up as a streaming-only platform. "The separation of online streaming and DVDs will set the stage for spinning off or selling the DVD business in the future," George Askew, an analyst with Stifel Nicolaus & Co., told Bloomberg News.
---