Modern Warfare 3 review roundup
(Read article summary)
Modern Warfare 3 is finally Oscar Mike. So what are the critics saying about the latest installment in the Call of Duty franchise?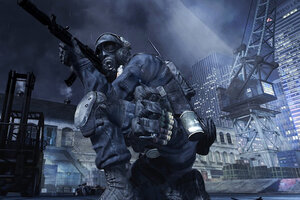 Activision
In the last few weeks, some top-notch video games have hit the market, Uncharted 3, Gears of War 3, Batman: Arkham City, and Battlefield 3 (well, at least the multiplayer half is great). But it's a safe bet that no 2011 game will be hotter than Call of Duty: Modern Warfare 3, the latest installment in Activision's storied first-person shooter franchise. So what do the critics have to say about Modern Warfare 3? Let's go to the scorecards.
The story
"The bigger-than-life plot touches down in London, Paris, Berlin and Prague, as well as Siberia and Somalia," writes Mike Snider of USA Today. "Players will be pleased to again be teamed up with returning characters, Task Force 141 members Capt. John Price and John 'Soap' MacTavish, who at the end of Modern Warfare 2 was wounded while dispatching a bad guy, renegade U.S. Gen. Hershel Shepherd. There's still work for Price and Soap to do because the ultranationalist Russian force remains on U.S. soil. The game involves tracking down its leader, Vladimir Makarov. What ensues is a tour of duty that lasts about six to 10 hours -- depending on how you play-- of adrenaline-surging action."
The story, part two
---