Twitter introduces new look, and new HQ
(Read article summary)
Twitter has a fresh new look, which extends to its website, its iOS and Android apps, and TweetDeck. Twitter is planning a physical as well as virtual expansion: a cavernous new headquarters with room for more than four times its current staff.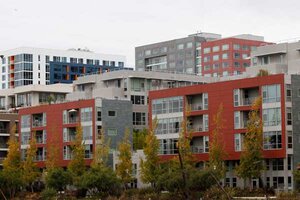 Stephen Lam/Reuters/File
Thursday was a big day for Twitter. The ubiquitous microblogging service not only began rolling out a top-to-bottom redesign of its site; it also unveiled its future headquarters in downtown San Francisco. One thing is clear: the company is confident that big things are in its future.
Join us as we take a tour of the company's new digs – both virtual and physical.
With this redesign, Twitter has aimed to simplify its interface, as well as standardize it across many platforms. The new look follows a four-column layout that's consistent across the website, iOS and Android apps, and the TweetDeck desktop app. The redesign is rolling out slowly – Twitter says it'll happen over several weeks – but early reactions are generally positive.
Here's how things will look when the redesign takes effect for you: On the far left, your Twitter profile appears in the "Me" section. Up above, you'll see three navigation tabs. The "Home" section is a revamped version of your old news feed, with photos and videos now embedded into tweets, where they were pushed to the side before. "Connect" keeps track of your interactions with other users (@replies and mentions in others' tweets). "Discover," the most heavily redesigned section of the site, is more or less an updated version of Twitter's search functionality. Twitter says that as you use the site, "Discover" will pick relevant stories and trends based on your other connections.
---