Kindle Fire update, live today, should improve performance
(Read article summary)
The Kindle Fire update should 'enhance fluidity and performance,' Amazon reps announced.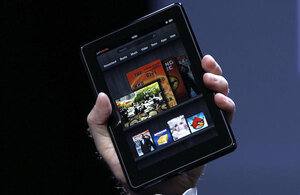 Reuters
Back in November, Amazon released the Kindle Fire. Critics were mostly impressed. Sales went through the roof. And soon thereafter, the inevitable problems emerged: There were complaints browsing speed, about the placement of the "off" switch, and the Fat Finger Fire Dilemma. In response, Amazon reps announced they would release a new software update, intended to "improve performance" on the Fire.
Today, that update – version 6.2.1 – is available for free download. According to Amazon, the new software, which should automatically be delivered to Kindle Fire devices, "enhances fluidity and performance, improves touch navigation responsiveness, gives you the option to choose which items display on the carousel, and adds the ability to add a password lock on Wi-Fi access."
(If you're having trouble accessing the update, you can navigate to this landing page, and click the blue link under the image of the Fire.)
---