RIM stock climbs on whispers of a takeover
(Read article summary)
RIM stock is up this week. But is a Nokia and Microsoft takeover actually likely? RIM stock holder sure hope so.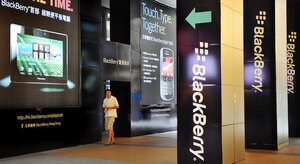 File
Oh, what a year for the team at Research in Motion.
There were outages, public apologies, a full-on "apology parade," tumbling stock prices, and a problematic tablet called the BlackBerry PlayBook, which was released to lukewarm reviews, and went on to sell poorly. But on Wednesday, RIM stock rebounded, climbing 10 percent on rumors that RIM – that same ailing company – might be acquired by Microsoft and Nokia.
According to the Wall Street Journal, which quoted "people familiar with the matter," in recent months Microsoft and Nokia "flirted with the idea of making a joint bid for Research In Motion." The status of the talks is uncertain, but the flicker of interest in RIM was enough to temporarily draw the interest of investors on Wall Street.
---