Upcoming Google tablet takes aim at Kindle Fire: report
(Read article summary)
A Google tablet is on the way. But it is aimed at the Kindle Fire or the iPad?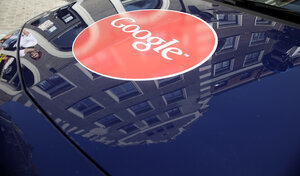 Reuters
Back in December, Google exec Eric Schmidt announced that Google was close to releasing its own tablet computer – possibly a tablet branded with the Nexus moniker. "In the next six months we plan to market a tablet of the highest quality," told the Italian newspaper Corriere della Sea, according to the UK Telegraph. That announcement meshed well with a long-simmering rumor: That Google and LG had partnered to build a tablet.
At the time, the assumption was that Google would be going after the corner of the market currently dominated by the Apple iPad (in other words, high-end). But now DigiTimes, a Taiwanese tech site, is alleging that Google could instead be gunning for the Kindle Fire, the budget tablet released last fall by Amazon.
---