Google privacy changes go live tomorrow
(Read article summary)
Amid criticism from a top French watchdog group, Google is set to launch its new privacy policy.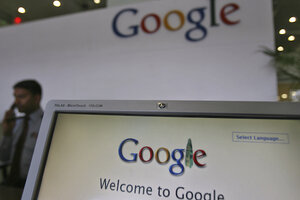 Reuters
On Thursday, Google will enact its new, streamlined terms of service and privacy policy, which the search giant said would make for "a simpler, more intuitive Google experience."
The trade-off: Google will now collect and compile user data from all of its services, in order to provide what it calls improved search results. 
The catch: Users can't opt-out of the new policy (although, Hayley Tsukayama points out today at the Washington Post, users can simply choose not to sign into Google before entering information into search fields). 
"The result," Doug Gross notes over at CNN, "encapsulates perhaps the most basic conundrum of the modern Web. More information means better service (and potentially, more targeted advertisements). But that service (in this case more accurate search results, more interesting ads and new features that work across multiple sites) requires you to give up some of your privacy in return." 
Privacy 'Äď it's been a sticking point since Google first announced the new changes, back in January. Competitors such as Microsoft were quick to pile on, as were politicians.¬†"The lack of opt-out means users cannot pick and choose which data they want integrated into their Google profiles,"¬†Sen. Richard Blumenthal, a Democrat from¬†Connecticut,¬†noted¬†at the time.¬†
This week, on the eve of the implementation of the new privacy policy, Google is under attack from a French agency called CNIL, or Commission nationale de l'informatique et des libertés. As PC World reports, CNIL, an independent organization, has sent a letter to Google CEO Larry Page, complaining that the new terms of service do not adequately explain how Google plans to use the personal information it collects. 
CNIL asked Google to hold fire on the new policy until the organization has a chance to vet it; Google has refused, writes Mark Hachman of PC World.
For more information on how the new policies will affect you, check out this post at the official Google blog, and keep your eye on Horizons for further updates.  
For more tech news, follow us on Twitter @venturenaut. And don't forget to sign up for the weekly BizTech newsletter.
---