iPad pre-order stock is already depleted, says Apple
(Read article summary)
Want the new iPad? Get ready to line up or sit on your hands – Apple says it has already sold out of online pre-order stock.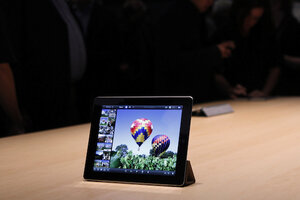 Reuters
The new iPad: After months of speculation and fast-flying gossip, it is here.
But good luck getting your hands on one anytime soon. In a statement today, Apple cautioned that pre-order stock of the new iPad, which hits shelves on Friday morning, is already depleted. "Customer response to the new iPad has been off the charts and the quantity available for pre-order has been purchased," Apple reps told USA Today. "Customers can continue to order online and receive an estimated delivery date."
Which is not to say that it is impossible to purchase an iPad on launch day. Without a pre-order – and providing you've got sharp elbows – you can still march to the local Apple store, and line up with the local scrum of Apple fanatics, and hope the store has enough iPad stock to go around. But you better start lining up soon: According to Slashgear, over in London, a few die-hards have already set up camp.
---