Apple CEO's visit to Foxconn plant dredges up controversial history
(Read article summary)
Apple CEO Tim Cook this week met with Chinese officials and toured a plant owned by Foxconn, which manufacturers parts for Apple.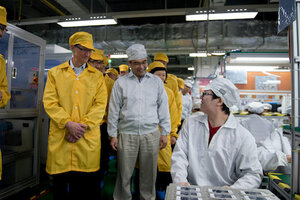 Reuters
In January, the New York Times published a long investigative piece examining the working conditions at several Chinese plants owned by Foxconn, which manufactures iPad and iPhone parts for Apple. Among the findings: Foxconn employees "labor in harsh conditions," live in overpacked dormitories, and work "excessive" overtime – sometimes standing "so long that their legs swell until they can hardly walk."
The article was damning, and under fire from critics, Apple eventually agreed to hire the Fair Labor Association to conduct an outside audit of its China-based suppliers. That was last month. This week brings news that Apple exec Tim Cook, who took over the reins of the company from the late founder, Steve Jobs, has journeyed to China for the first time in his tenure as CEO.
---