HTC EVO 4G LTE brings true 4G speed to Sprint
(Read article summary)
The HTC EVO 4G LTE, launching this year on Sprint, packs a 4.7-inch display and the Android 4.0 OS.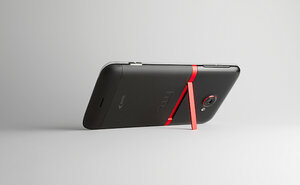 Sprint
It's getting harder and harder to tell the difference between a tablet and a smartphone.
Say hello to the HTC EVO 4G LTE, a capital-letter-sandwich of a smartphone set to launch on the Sprint network at some point in the second quarter of 2012. The EVO 4G, which was unveiled this week in New York, taps into the Sprint LTE network, and will retail for two hundred bucks, with a two-year data contract. Expect Android 4.0 capability, 8-megapixel rear-facing and 1.3-megapixel front-facing cameras, and improved voice quality.
But most importantly, this thing has an absolute monster of a display: 4.7 inches, according to HTC. Compare that to the 3.5 inch screen on the iPhone 4 and 4S, and the 4.3-inch display on the Droid RAZR Maxx. Thankfully, as was the case with past HTC models, the EVO 4G will come equipped with an extendable kickstand, allowing you to take better advantage of that movie-theater-sized screen.
The EVO 4G, when it launches, will go head-to-head with a small army of top-end, big-screen smartphones, including the iPhone 4S, which was released last year to rave reviews (and extremely solid sales figures). So how does it stack up? Well, over at PC Magazine, Eugene Kim does a side-by-side rundown of the EVO 4G and the iPhone 4S, well worth reading in its entirety.
---