Project Glass taken out for test run by Google co-founder: report
(Read article summary)
Project Glass, augmented reality lenses from Google, is already being tested by Google employees, including company co-founder Sergei Brin.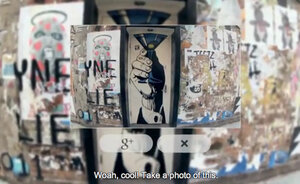 Google
This week Google officially confirmed the existence of Project Glass, a prototype pair of augmented reality goggles, which will allow users to see maps and chats and take photographs or notes without once reaching down for their smart phones. Early photos of Project Glass show a slim, sleek pair of glasses, with a small rectangular lens over one eye – presumably for snapping photos.
"A group of us from Google[x] started Project Glass to build this kind of technology, one that helps you explore and share your world, putting you back in the moment," Google engineers Babak Parviz, Steve Lee, and Sebastian Thrun announced this week on Google+. "We're sharing this information now because we want to start a conversation and learn from your valuable input." Parvis, Lee, and Thrun also posted a video of Project Glass, which is below.
Now comes news that Project Glass, which many analysts believed would not launch for months, could be closer to store shelves than originally anticipated. Yesterday evening the tech blogger Robert Scoble caught a glimpse of Google co-founder Sergei Brin sporting a pair of Google goggles, and tweeted the images to his quarter million followers – setting off a small Internet firestorm.
---