Instagram gives Facebook 5 million reasons to love recent acquisition
(Read article summary)
The new Android app from Instagram, which was recently gobbled up by Facebook, has racked up 5 million downloads.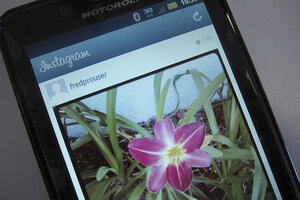 Reuters
Earlier this week, Facebook announced the acquisition of photo-sharing hub Instagram. The price tag? A reported $1 billion in stock options and cash, a hefty chunk of change even for a company that could soon be valued at $100 billion.
In a message to users, Facebook CEO Mark Zuckerberg maintained that although Facebook and Instagram offered very "different experiences, that the two platforms would "complement each other."
"This is an important milestone for Facebook because it's the first time we've ever acquired a product and company with so many users," Zuckerberg wrote. "We don't plan on doing many more of these, if any at all. But providing the best photo sharing experience is one reason why so many people love Facebook and we knew it would be worth bringing these two companies together."
Plenty of analysts thought Team Facebook was nuts. (The deal, wrote one, "was an indication that Facebook does not have what it takes to stay in business.")
---