Windows 8 will have three versions. What are the differences?
(Read article summary)
Microsoft says it will introduce three Windows 8 editions, including Windows RT, an version optimized for ARM tablets and PCs.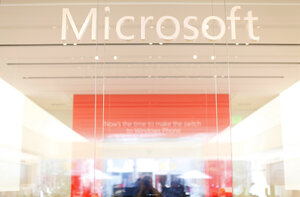 Reuters
Windows 8, the next-generation Microsoft OS expected to debut later this year, will ship in three distinct "flavors": Windows 8, Windows 8 Pro, and Windows RT. So says Microsoft communications manager Brandon LeBlanc, who took to the Windows blog this week to tout the "flexibility" of the new Microsoft ecosystem.
"We have talked about Windows 8 as Windows reimagined, from the chipset to the user experience," LeBlanc wrote in a post on Blogging Windows. "This also applies to the editions available – we have worked to make it easier for customers to know what edition will work best for them when they purchase a new Windows 8 PC or upgrade their existing PC."
So which edition will you be picking up? Well, it depends on what kind of machine you own. Windows RT is "the newest member of the Windows family," LeBlanc writes – an OS optimized for ARM tablets and PCs. In practice, that means "touch-optimized" desktop versions of Word, PowerPoint, Excel and OneNote, as well as a stripped-down interface and improved battery life. Windows RT is what you'll run on your new tablet.
---