Apple earnings still going strong post-Jobs
(Read article summary)
Apple earnings report had some impressive sales numbers: a 94 percent profit increase over last year, and huge profits on iPad and iPhone sales. A lot of the growth is coming from Asian markets, and Apple earnings are expected to expand there in months to come.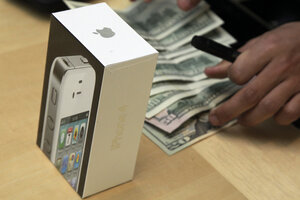 Richard Drew/AP/File
Apple is sailing strong with Tim Cook at the helm. At its earnings call on Tuesday, Cupertino announced higher-than-expected revenue -- driven by a seemingly limitless market demand for iPhones and iPads.
Apple posted a record $39.2 billion in revenue and $11.6 billion in profit for the quarter ending March 31st -- almost doubling its profit from the same quarter last year. The company stock dipped before the announcement due to fears that iPhones weren't selling well, but then rose in after-hours trading by more than $40, to just over $600 per share. Put simply, investors were nervous that Apple might have lost some of its mojo -- but the numbers tell a different story.
The growth is coming almost entirely from the iOS side of things. Apple sold 35.1 million iPhones and 11.8 million iPads during the quarter -- an 88 percent increase over last year for iPhones, and a 151 percent increase for iPads -- largely in emerging markets. US iPhone activations have dropped (at least, if reports from AT&T and Verizon are to be believed) but CEO Tim Cook noted that sales in Asia, and especially in China, are soaring to make up the gap.
---