SpaceX Dragon capsule will soon be earthbound again
(Read article summary)
The SpaceX Dragon capsule successfully docked with the International Space Station. Now, it heads back to earth.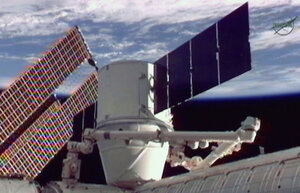 Reuters
The SpaceX Dragon capsule became the first commercial vessel in history to dock with the International Space Station last Thursday. Now, after approximately a week in orbit, the Dragon will return to earth. According to reps for SpaceX, a private company headquartered in California, the Dragon will detach from the International Space Station this Thursday morning and land a few hours later somewhere in the Pacific Ocean.
Of course, navigating the capsule – and its 1,367 pounds of new cargo – to a safe landing won't be easy. But asked about the re-entry to the earth's atmosphere, John Couluris, mission manager for SpaceX, expressed confidence. "Only a few countries have done this before, so we're not taking this lightly at all," Couluris said at a news conference.
---