Google Earth, now in 3-D!
(Read article summary)
With 3-D imagery, expanded street view, and offline access, Google Earth and Google Maps got a pretty major boost this week. Rumor has it that Google is beefing up their services before Apple launches its own competing map app.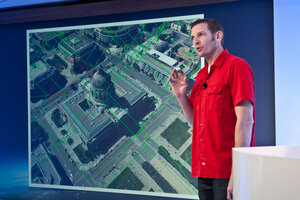 Google/AP
Google Maps is great and all, but what happens when you get lost in an area that doesn't have cell coverage?
Soon it'll be okay: this week, Google announced a new offline Maps mode which, when paired with a little foresight, will let you use the service even when you don't have Internet access. Just save an area of a map while you're connected, and you can call it up later no matter how deep in country backroads you are.
Offline Maps support was just one of the new features Google announced on Wednesday. It's also going to start offering high-resolution 3-D imagery, or what the company calls the "next dimension" of maps, in the Google Earth program. Google is putting Earth cameras on a number of small planes, which then fly around buildings and over strips of cities, snapping thousands of images from different angles. Google then stitches all the images together to make a 3-D map of, say, a city skyline.
Google Earth has featured 3-D images of certain buildings for a while now (to see an example, enable the "3-D buildings" layer in Google Earth, then take the program's "sightseeing tour" of famous landmarks), but the new technology can show a whole metropolitan area in 3-D. For now, you're limited to zooming around the San Francisco skyline on the mobile Android app, but Google promises to have 3-D coverage of more cities and suburbs -- covering at least 300 million people -- and a roll-out to the desktop version of Google Earth by the end of the year.
---