Apple brags about big iPhone numbers, but ignores a crucial Android fact
(Read article summary)
Apple's Scott Forstall said Monday that 80 percent of Apple mobile devices run the latest version of iOS. Good news. But...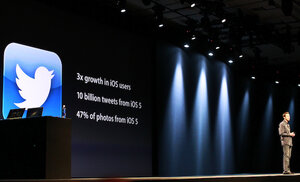 Reuters
At the 2012 Worldwide Developers Conference (WWDC) in San Francisco this week, Apple exec Scott Forstall offered up a barrage of statistics on iOS, the Apple mobile operating system. Among them: Apple sold upward of 365 million iOS devices over the past five years, roughly 80 percent of which are now equipped with iOS 5, the latest version of the OS. (Or rather iOS 5 was the latest version of the software, until today, when Apple unveiled iOS 6.)
Makes sense Forstall would stress the 365 million figure. But why does it matter what version of iOS the devices are running? Well, because it provides a useful contrast with Google's Android OS. Android is exceedingly popular around the world. In fact, Google exec Andy Rubin tweeted this week, "there are over 900,000 Android devices activated each day." In other words, Android may hit 365 million devices this year alone.
But as Chris Burns of tech site SlashGear notes, "only a small sliver" of those millions of Android users are running the most recent Android update, Android 4.0, or Ice Cream Sandwich. Most are running older versions of the OS – Android 3.0, for instance, or even Android 2.0. Apple, Burns added, is "eating Android's lunch as far as installed user base [is] concerned."
---