Alan Turing: How he helped win World War II
(Read article summary)
Alan Turning spearheaded the creation of the bombe, a device designed to crack the German Engima machine.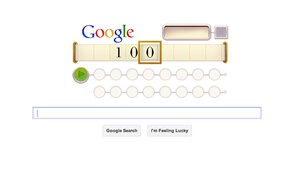 Reuters
The Google homepage today is adorned an interactive Turing Machine, a gadget often identified as a predecessor to the modern computer. The doodle honors Alan Turing, a British mathematician, cryptanalyst, and the inventor of the Turing Machine. But Turing, who would have turned 100 today, has another, even more important accolade to his name: He helped bring a close to World War II.
In 1938, Turing, already an accomplished mathematician with a doctorate from Princeton, began working with the British Government Communications Headquarters, which was tasked with cracking the infamous Enigma machine. First pressed into use in 1919, the Enigma machine was used to decipher and transmit messages between German commands.
Deciphering the Enigma code, the British correctly believed, would lend them a great advantage over the German war machine, which was then lurching into gear. As David Leavitt of the Washington Post notes, "because the [Engima] code was generated by a machine, Turing decided, only a machine could break it." Together with a group of the best scientists in England – chief among them Gordon Welchman – he set about building it.
---