Ouya brings free-to-play games to TVs
(Read article summary)
While gamers wait for the next Sony and Microsoft consoles, Ouya preps a $100 machine that will feature only free-to-play games. The new contender runs Android.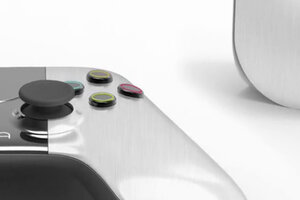 Ouya/Kickstarter
Most free video games are found under the "casual gaming" category – word puzzles and simple online games. Ouya hopes to change that with the creation of a $100 gaming console that will bring the appeal of mobile and Facebook games to televisions.
The Ouya console runs off the Android operating system, so, as company founder Julie Uhrman says in Ouya's Kickstarter profile, smart-phone "developers already know how it works."
Designed by Yves Behar of Jambox and One Laptop Per Child fame, the console is sleek and attractive, evoking bridge design in a big-budget sci-fi movie – or video game.
"It has everything you've learned to love," says Uhrman on the Kickstarter page, "fast buttons, triggers, laser-precise analog sticks, a D-Pad – and we've added a touchpad for any games making the trek from mobile or tablet to the TV."
To make the system's promise a reality, the company is raising money – a rather hefty $950,000 – through the Kickstarter crowd-funding site. Gaming has had good luck on the site, with three of the top five fundraisers being games, and each raising more than $1.5 million.
All games designed for Ouya will have a free-to-play element.
---